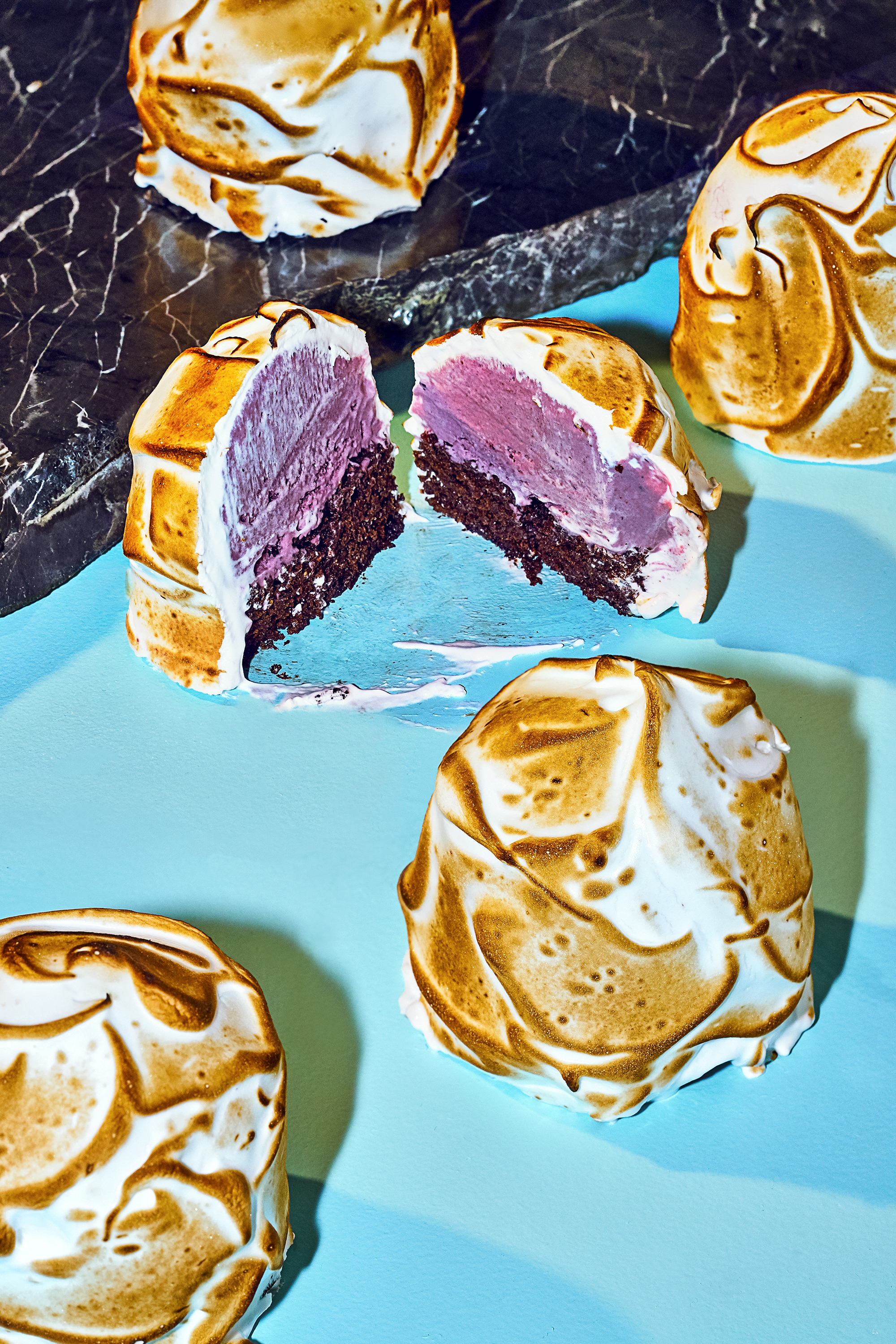 Maqui who?! Maqui berry! The hottest new superfood making the rounds
Move over açai, maqui is here to kick yo butt, at least for now. Last year it was all about açai bowls, smoothies, and facials. This year, maqui berry is the latest trend in the world of superfoods. This berry is from Chile and just like every other superfood, is supposed to be packed with all the good shit: antioxidants, vitamins, anti-aging, unicorn tears, and everything else. Now, why am I using it in this dessert? Well, I thought why not add a little healthy spin on a decadent recipe, it cancels out all the sugar, right?!
Either way, the combo of maqui berry powder and blueberries makes a lovely tasting ice cream that has a vibrant purple colour – so in trend with Pantone's colour of the year! Also, we added a touch of cake (wacky cake!) because you need something chewy and soft with it. Torched meringue, blueberry and maqui ice cream, a base of cake, what else could you need?!
If you make this dessert, you'll be trendy, healthy, and awesome – basically you'll morph into Gwyneth Paltrow (sans shoving coffee up your butt).
Oh and this recipe uses the powder form of both berries, why? I find that adding the powder makes the ice cream stay creamy, while adding too much fruit can make it hard or separate due to the high water content. Ok enough chat, let's make it.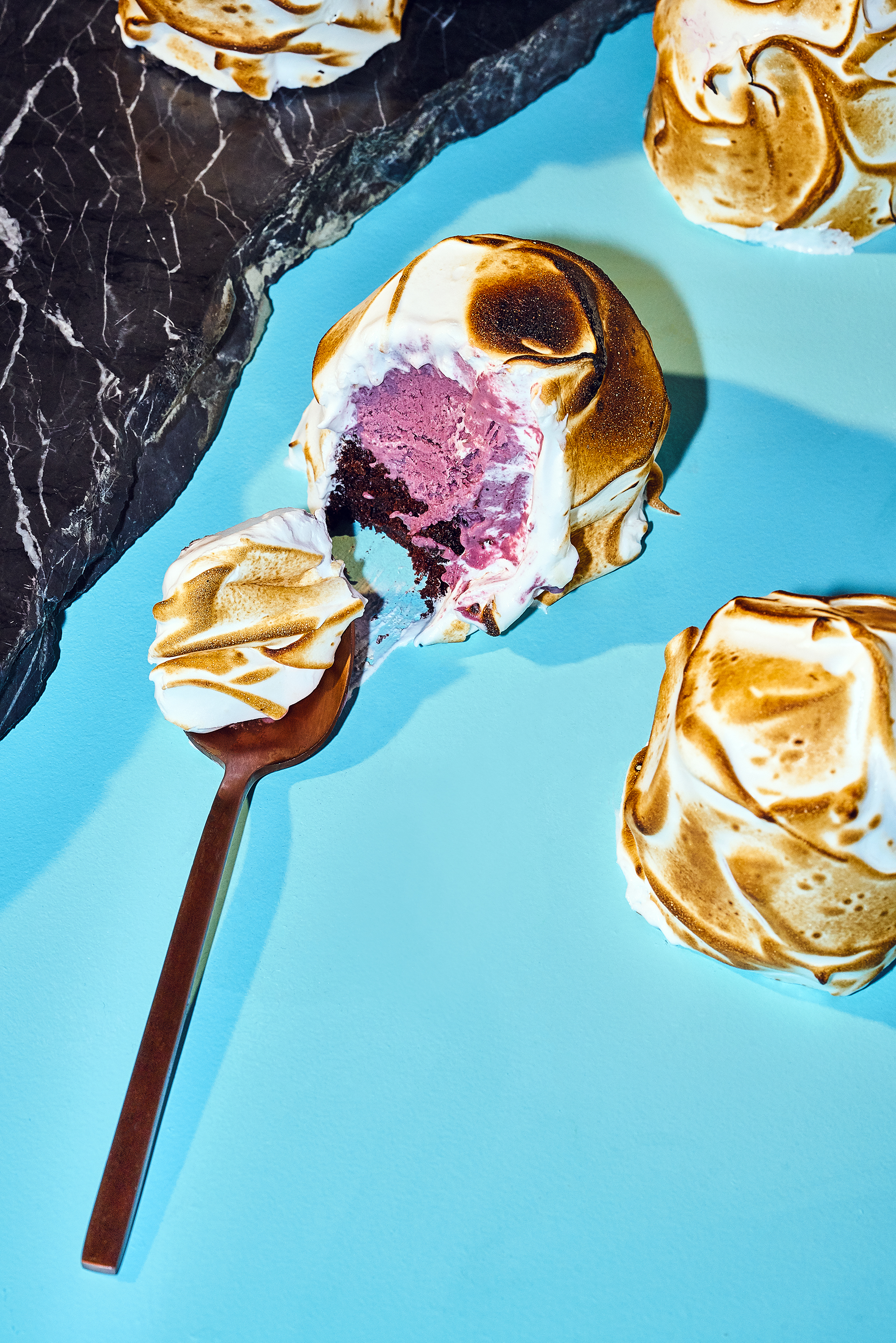 Blueberry Maqui Baked Alaska (Dairy-Free)
Serves 6
INGREDIENTS
Ice Cream Base
¾ cup cashews, soaked for a couple hours and drained
1 can coconut milk
2 Tbsp. coconut oil
2 Tbsp. maple syrup
Pinch Sea Salt
Zest of 1 lemon
2 tbsp maqui berry powder (you can find it online and at health food stores)
4 tbsp blueberry powder
Basic Wacky Cake
1 1⁄2 cups flour
1 cup sugar
4 tablespoons cocoa
1 teaspoon baking soda (SODA! not powder)
1⁄2 teaspoon salt
1 tsp. Vanilla
2 tsp.vinegar
6 Tbsp Veggie Oil
1 cup cold water
Meringue
¾ cup whites (4 whites)
¾ cup sugar
pinch of cream of tar
INSTRUCTIONS
Combine all of the ice cream ingredients and blend in a blender on high speed until smooth. Place in an ice cream maker until frozen, scoop ice cream using a round ice cream scoop onto a tray, freeze.
For the cake, combine the dry ingredients in one bowl, in a separate bowl combine all the wet ingredients. Stir in the wet ingredients into the dry and combine. Bake in an 9 by 9 pan for 40-45 minutes (pick with a fork or toothpick to check for doneness)
To make the meringue, beat the egg whites and add the cream of tartar, beat until they form soft peaks, then slowly add the sugar and continue to beat until stiff peaks form and the meringue is glossy and holds its shape.
To make the baked alaska, cut the cake with a circle cookie cutter (about the same size as your ice cream scoop), then place the ice cream scoop on top of the cake, cover with meringue and torch. Repeat for all other cake and scoops.
Serve immediately!